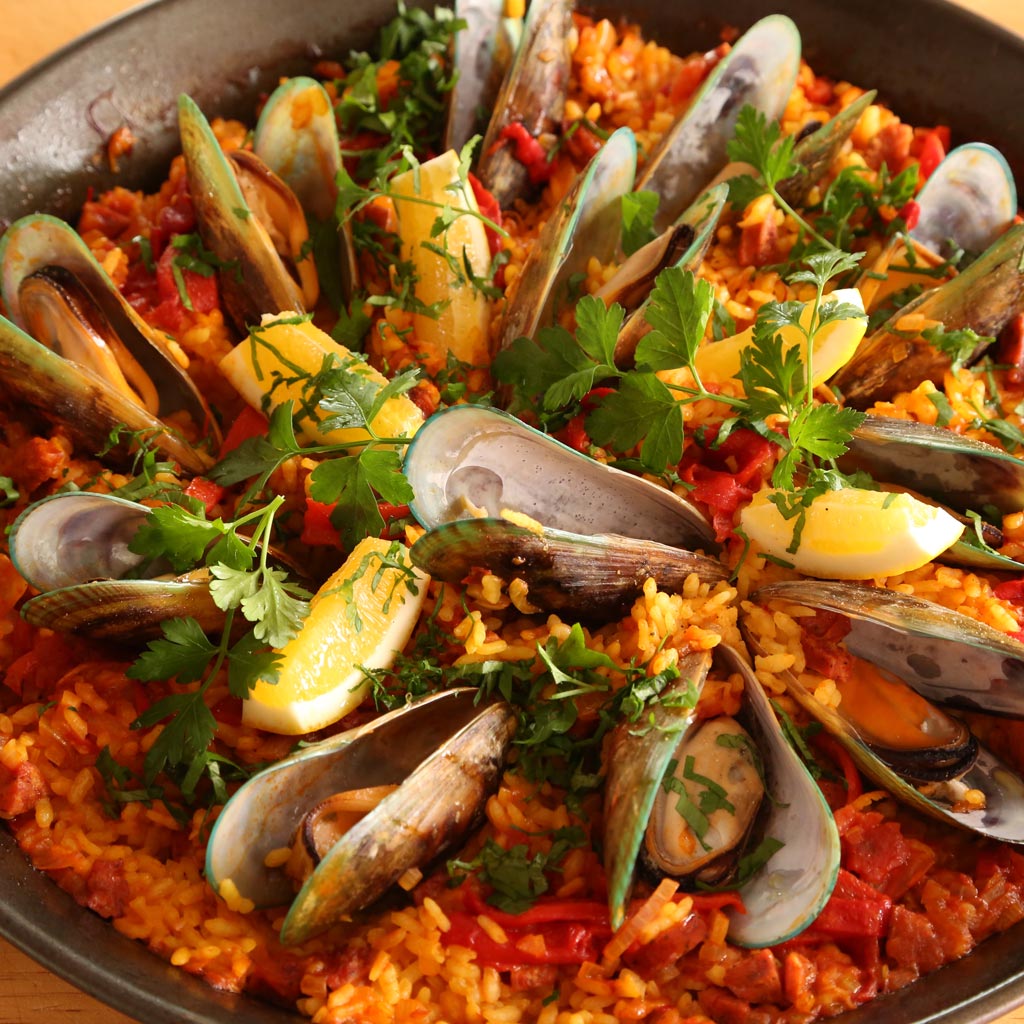 NZ Greenshell™ mussel & chorizo paella
INGREDIENTS
1 kg fresh live mussels (scrubbed & de-bearded, just before cooking)
40ml olive oil
100g chorizo, diced
½ onion, finely diced
2 garlic cloves, crushed
1 tsp smoked paprika
Large pinch of saffron
½ tsp. dried oregano
Pinch dried chilli flakes
½ can crushed tomatoes
250g paella rice
750ml fish or chicken stock
Zest of ½ a lemon
4 piquillo peppers (marinated roasted red peppers, sliced from jar)
4 tbsp. parsley, chopped
Extra virgin olive to finish
Lemon wedges to garnish
METHOD
Place a paella pan, or a large shallow frying pan over a medium heat. Add the olive oil. When hot, add the chorizo and fry, stirring, until just coloured. Add the onion, garlic, paprika, saffron, oregano and chilli flakes. Gently fry for 3-4 minutes.
Add the crushed tomatoes, then cook for 5 more minutes or until lightly thickened and the onion and garlic are softened.
Tip in the rice. Cook for about 3-4 minutes, stirring until the rice is transparent.
Pour in the fish/ chicken stock, the lemon zest and ½ tsp of salt. Bring to the boil, stirring occasionally. Turn the heat down to a low simmer. Cook, uncovered, for about 10 minutes.
Add the mussels and piquillo peppers.  Cover loosely with tinfoil, and then continue cooking for another 8 minutes without stirring, until the mussels steam open and the rice is tender, whilst still retaining a bite. Season with a little salt and pepper. Leave the paella to rest covered for 5 minutes.
Take off the foil, then sprinkle over the chopped parsley. Drizzle with a little extra virgin olive oil and garnish with lemon wedges.
Serve the paella straight from the pan at the table. Great served with a simple green leaf salad, and a side of aioli.