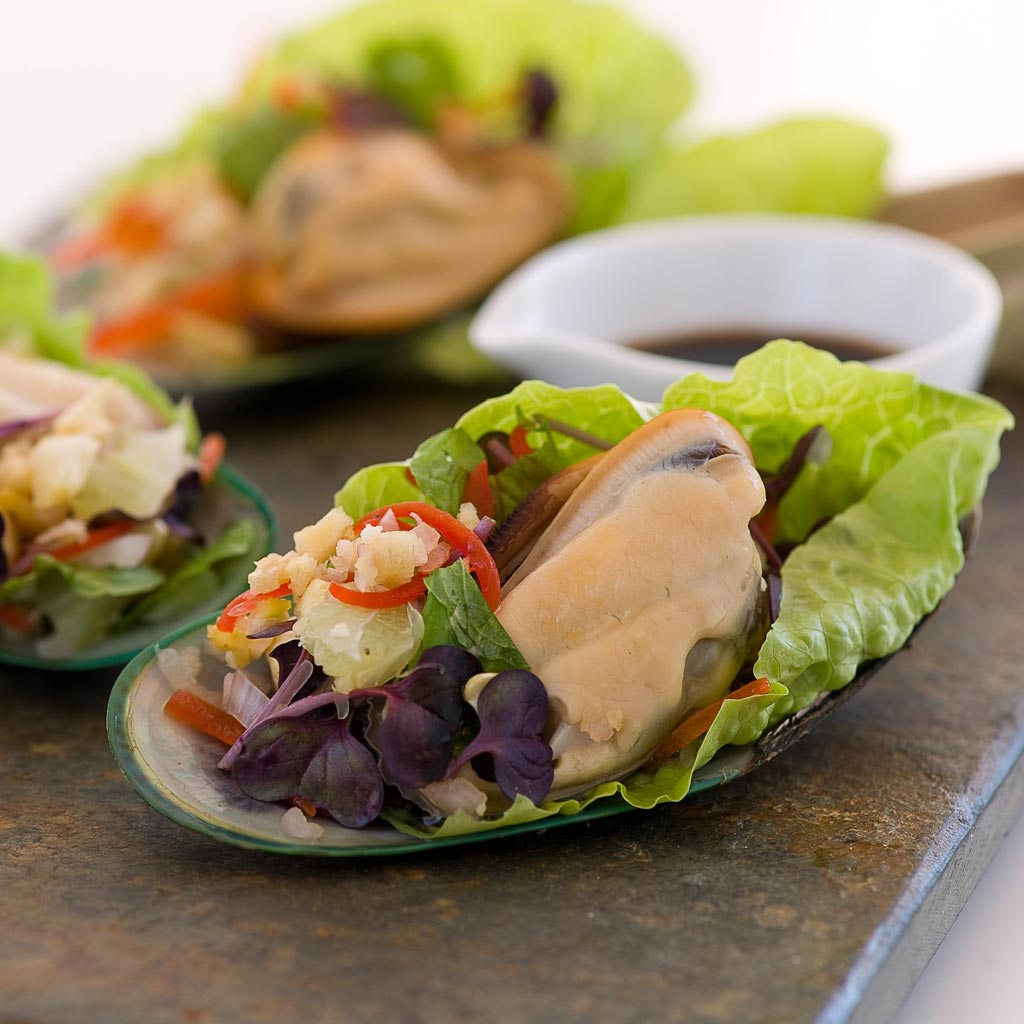 NZ Greenshell™ mussel lettuce parcels with Thai style dressing
INGREDIENTS
15 ea fresh live mussels
50gm carrot – julienne
50gm mung bean sprouts
50gm red capsicum – julienne
20gm peanuts – rough chopped
20gm spring onions – julienne
15gm dried banana chips – rough chopped
15 young small lettuce leaves (small boat shape)
Dressing:
½ red chilli (medium heat) – chopped
½ garlic small clove – chopped
1 tsp fresh ginger – fine grated
5 fresh coriander leaves & stem
20mls light soy sauce
20gm palm sugar (if unavailable use brown sugar)
1 tsp Thai fish sauce
1 lime – juice only
METHOD
Steam the mussels until just cooked, set aside & allow to cool.
Mix all other ingredients except the lettuce & mussels in a bowl.
Place the mixture into individual lettuce leaves so that the lettuce cradles the mixture making it easy to pick up as a wrap, place the whole mussel on top & lightly dress with the dressing.
Can be garnished with more fresh coriander & a small jug of any left-over dressing. The mussel shell can also act as a natural cradle to support the mussel lettuce parcel.
Dressing:
Mix chilli, garlic, ginger & coriander & using a mortar and pestle or blender, crush until you have a rough paste. (Alternatively, chop all as finely as possible.)
Add sugar in small amounts until dissolved.
Add fish sauce and lime juice to taste.