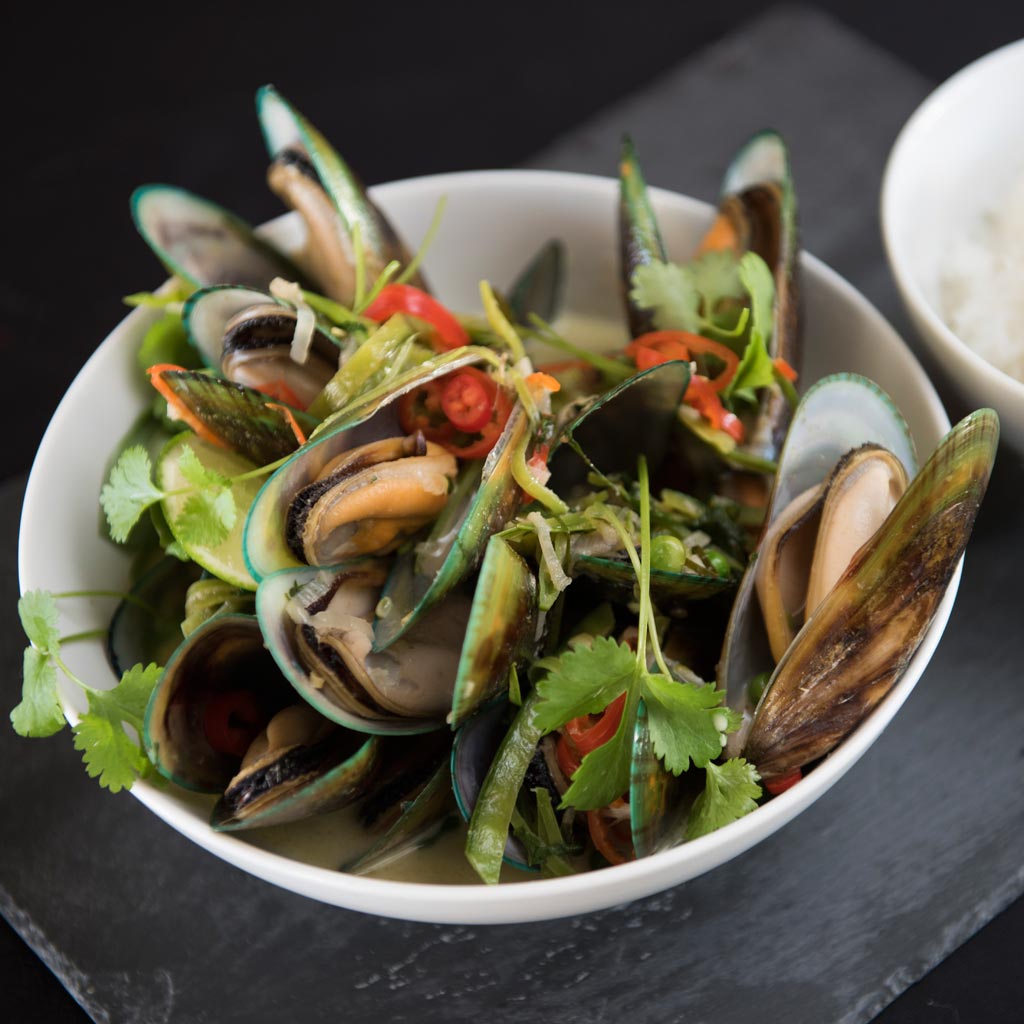 NZ Greenshell™ mussels in Thai green curry sauce
INGREDIENTS
2.7 kg fresh live mussels (scrubbed & debearded, just before cooking)
3 Tbsp. canola oil
2 shallots, thinly sliced
2 garlic cloves, crushed
2 cm piece of ginger, peeled & grated
1 stick lemongrass, finely sliced
3-4 Tbsp. green curry paste
400ml can coconut cream
2 Tbsp. Thai fish sauce
3 kaffir lime leaves, shredded
1 Tbsp. brown sugar
100g snow peas, shredded
50g baby peas, defrosted
½ cup basil, roughly chopped
¼ cup coriander, roughly chopped
2 red chillies, deseeded and thinly sliced
1 lime, juice only
Sea salt & fresh ground white pepper
Extra shredded kaffir lime leaf, Thai basil & coriander to garnish
METHOD
Heat the oil in a large, deep frying pan or wok. Add the shallots, garlic, ginger and lemongrass and sauté gently without colouring for 2-3 minutes.
Add the curry paste and cook out for 1-2 minutes more until fragrant.
Stir in the coconut cream, fish sauce, kaffir lime leaves and brown sugar and bring to the boil.
Add the mussels and poach gently for about 5-6 minutes until all the mussel have opened. (Discard any mussels that don't open.)
Add the snow peas, peas, fresh herbs, chilli & lime juice.
Season to taste with sea salt & fresh ground white pepper, then divide the mussel between 4 bowls. Pour over the curry sauce and then garnish with the extra kaffir lime leaves, Thai basil & coriander on top and serve with steamed jasmine rice on the side.