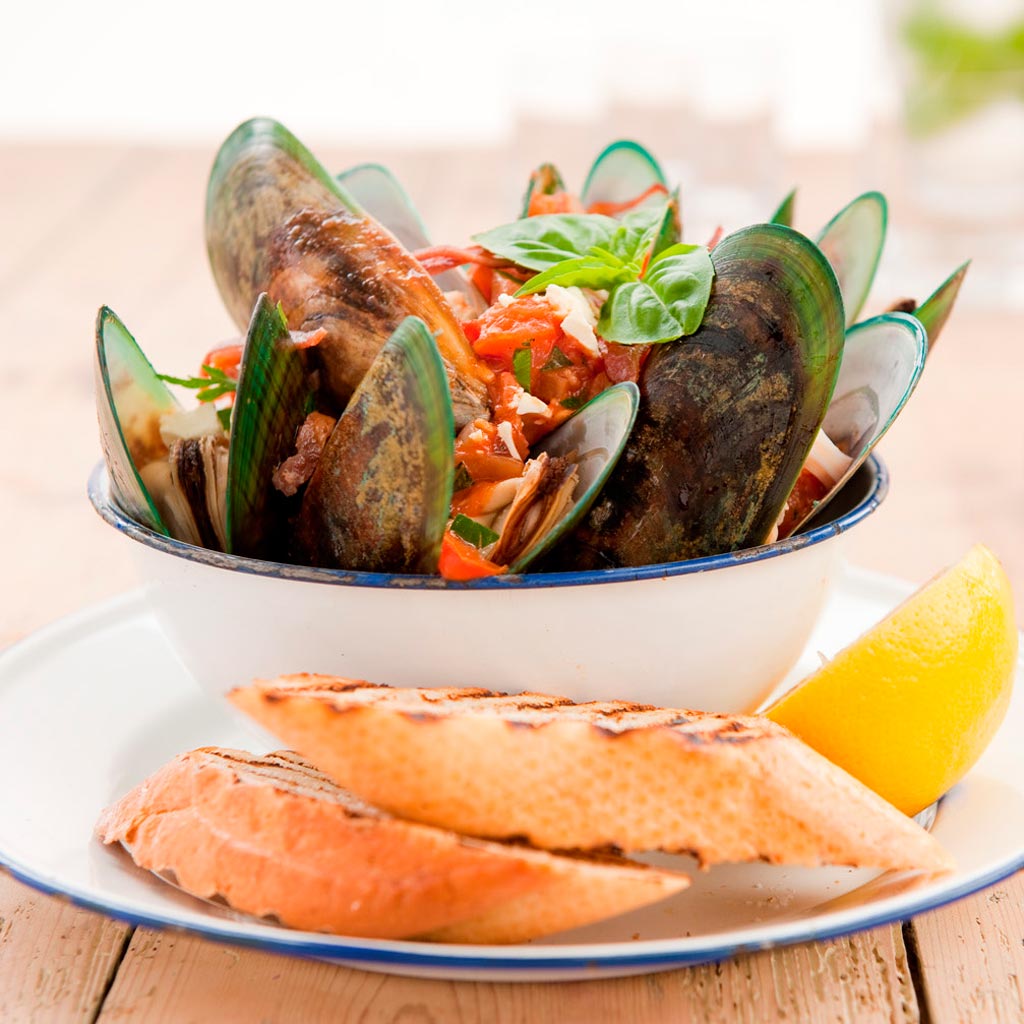 Steamed NZ Greenshell™ mussels with tomato, pesto & bacon sauce
INGREDIENTS
2 dozen fresh live mussels (debearded and cleaned just before cooking)
150ml olive oil
1 large garlic clove – minced
1 onion – roughly chopped
3 ripe Roma tomatoes – chopped (or tinned Roma tomatoes)
250ml white wine
1 Tbsp basil pesto
3 rashers streaky bacon (rind removed)
150g crumbly feta
1 baguette (french stick)
2 Tbsp fresh basil – roughly chopped (saving a small amount for garnish)
1 Tbsp fresh Italian parsley – roughly chopped (saving a small amount for garnish)
Flaky sea salt to taste
Fresh cracked black pepper
METHOD
Portion the baguette & rub with the garlic & then brush with olive oil. Lightly toast & keep warm to serve with the mussels.
In a heavy based sauce pan sauté roughly chopped bacon in the olive oil till crispy then sauté onions & garlic in the bacon oil till soft & transparent.
Add ½ the wine & tomatoes, allowing sauce to come up to the boil, and then simmer for approx. 8-10min to reduce the sauce.
To finish the sauce, season to taste & stir in pesto, remove the sauce from the pot & store in a suitable container.
Wash & reuse the heavy based sauce pan, place on the heat with a lid till very hot, place the mussels into the pot with the remaining wine & return the lid allowing the mussels to stem open (discard any unopened mussels).
Return the tomato sauce to the sauce pan with the mussels, allowing the sauce to come back up to boil, correct the seasoning & just before serving add the fresh herbs.
Portion the mussels out into wide pasta bowls & then divide the sauce between all of the bowls, next crumble the feta over the mussels & garnish with the remaining herbs, finish with warm baguette & serve while hot.